Tynan's Quick Quote Tools Make Shopping For Your Next Volkswagen Vehicle Easier
At Tynan's Volkswagen in Aurora, CO, we've worked hard to create a relaxing environment once you come in from Denver, CO, to shop for your next vehicle. That said, we still know you want to be in and out as fast as possible and we take no offense to that. To help expedite the shopping process, we have now offer the Tynan's Quick Quote suite of technologies located on the vehicle details page of the vehicle your ready to purchase!
Follow Our Tynan's Quick Quote Steps to Make Buying a Vehicle Faster
Buying or leasing a vehicle is a big deal, but since you've already spent a lot of time researching we don't think you need to spend a lot of time on our website. We know you have places to go and things to do around Lakewood, CO, and with the Tynan's Quick Quote tools you can get to them in a new Volkswagen or "new to you" used vehicle much faster. Use the tools below individually or combine them all for massive time savings.
1. Personalize Your Payments
Look at your monthly payment - owning a vehicle is a big financing responsibility, and you want to make sure you're buying or leasing a car that fits your budget. With the Tynan's Quick Quote payment calculator, you can look at specific models and get a strong estimate of the cost. That way you have a better expectation of pricing before you drive in from Denver CO.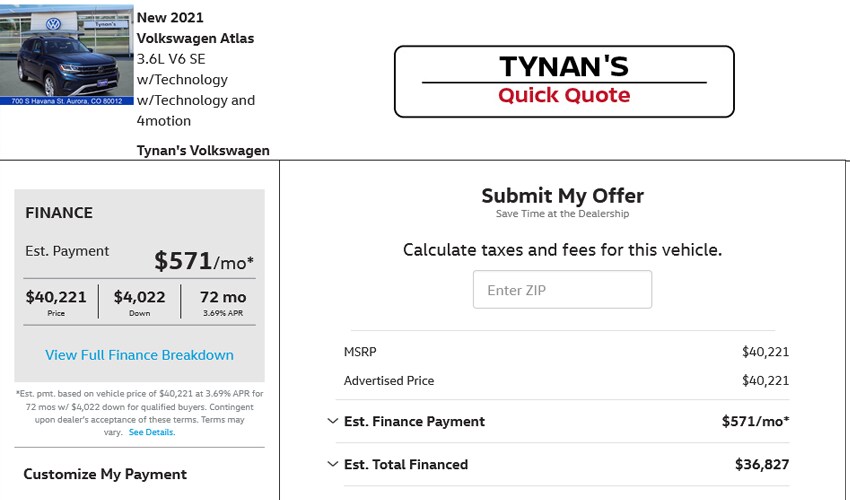 2. Value a Trade?
Value a trade-in - if you already have a current vehicle you drive around Centennial, CO, you don't have to worry about going through the hassle of a private sale. You can use our Value a Trade-In tool to enter information about your vehicle and get a solid estimate from the reputable Kelley Blue Book company. To make the process seamless, the Tynan's Quick Quote tools can factor this information into the payment calculator directly on the vehicle details page for the model you're shopping for!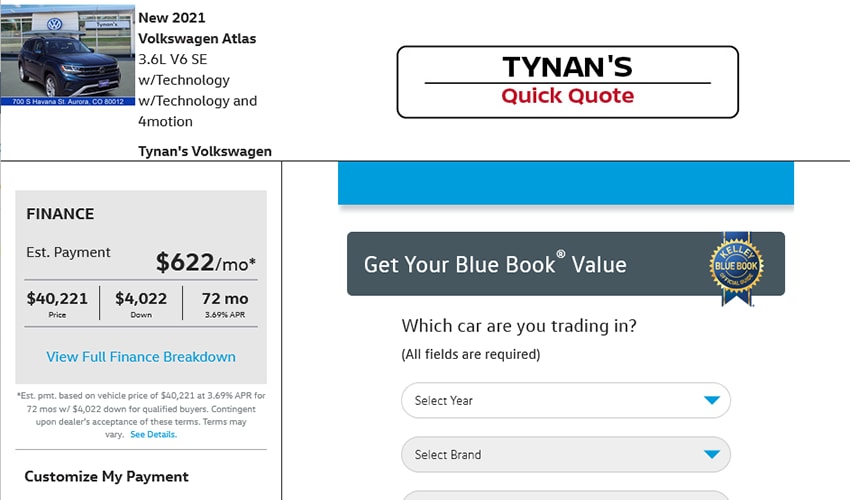 3. Apply for Financing
Take care of financing paperwork - a step that can take the longest at the dealership is the financing form, so to cut down on that the Tynan's Quick Quote tools allow you to enter your financial information ahead of time. We'll securely pull your details into our system and then reach out in case you have any questions.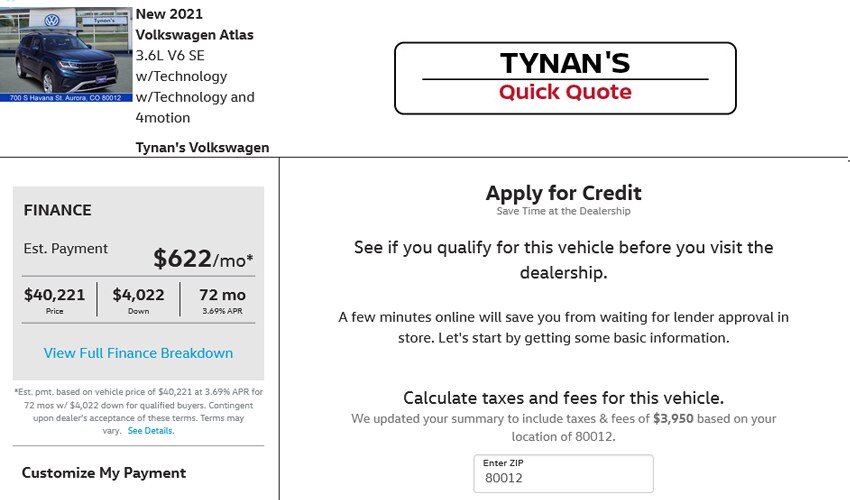 4. Time To Take a Test Drive!
Schedule a test drive - once you have picked out your dream vehicle and have used the Tynan's Quick Quote tools to get a better idea about its associated costs, it's time to setup a test drive. Chose the time and date that work for you, and we'll be sure to have the vehicle ready for your arrival from Greenwood Village, CO, or the office.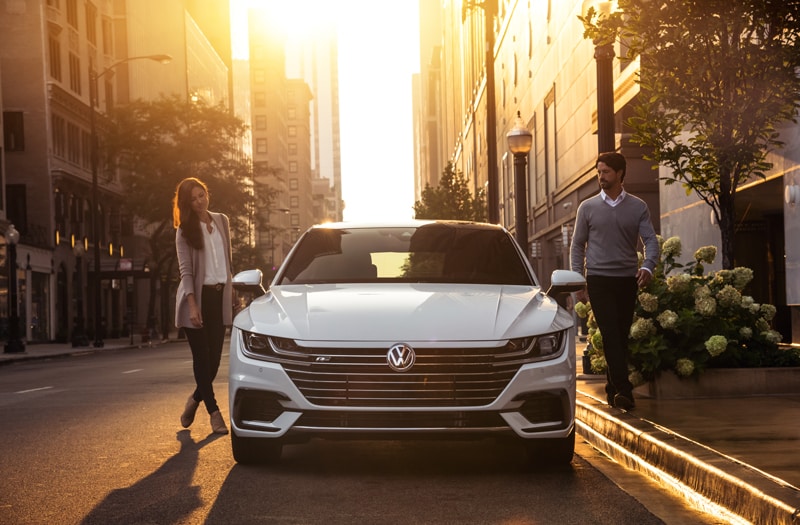 With the help of the Tynan's Quick Quote technologies, buying a car has never been easier. You can take care of so much of the most cumbersome work from the comfort of your couch, and when you arrive at our location you can simply go on a test drive, have us answer any last-minute financing questions, review protection plans, and drive away after signing on the dotted line. Get started today!
Hours
Monday

9:00am - 8:00pm

Tuesday

9:00am - 8:00pm

Wednesday

9:00am - 8:00pm

Thursday

9:00am - 8:00pm

Friday

9:00am - 8:00pm

Saturday

9:00am - 8:00pm

Sunday

Closed